Svanah radiation shielded maternity belly band
Svanah radiation shielded maternity belly band
High and sustained RF and EMF radiation exposure can cause harm to the baby during the pregnancy term. Pregnant women now work for all 9 months of their pregnancies. Researches world over show that high exposure to RF radiation in pregnancy term can adversely impact cognitive development of babies and even cause miscarriages. Research by Kaiser Permanante (Silicon Valley, December 2017, n=943) shows that expecting mothers with higher EMF radiation exposures may have 3 times higher risk of miscarriages than normal. SVANAH radiation shielded maternity belly band is a pregnancy essential which reduces EMF and RF exposures at pregnancy by upto 99.95%.
Highlights:
REDUCES FETAL RADIATION EXPOSURE BY 99.95% – Upto 99.95% RF and WiFi shielding from cell phones, laptops and other devices
Hypoallergenic – can be worn directly over skin.
Soft on the skin – can be worn all day long.
Light, Comfortable, Sweat Wicking
Snug fit – can be worn inside the clothes
Provides gentle compression and support to the body
Certified by Govt of India laboratory
Did you know that pregnant mothers with higher RF radiation exposures have 3 times higher miscarriages than normal deliveries? 
Expecting mothers are exposed to high radiation at home, work and travel. This includes RF radiation from WiFi routers, cellphones, ambient radiation from mobile towers etc. High radiation exposure at fetal stage can cause cognitive impairment in babies leading to Autism. Additionally, exposure to high RF radiation during pregnancy can lead to miscarriages* and in some cases pre-term deliveries. (*: Reference to a study by Kaiser Permanante, in Silicon valley US, Q4 2017, n=943)
Svanah radiation shielded maternity belly band is a maternity essential. It shields the baby in the mother's womb from cellular and WiFi radiation by upto 99.9%. It is certified by Govt of India accredited NABL laboratory, SASMIRA.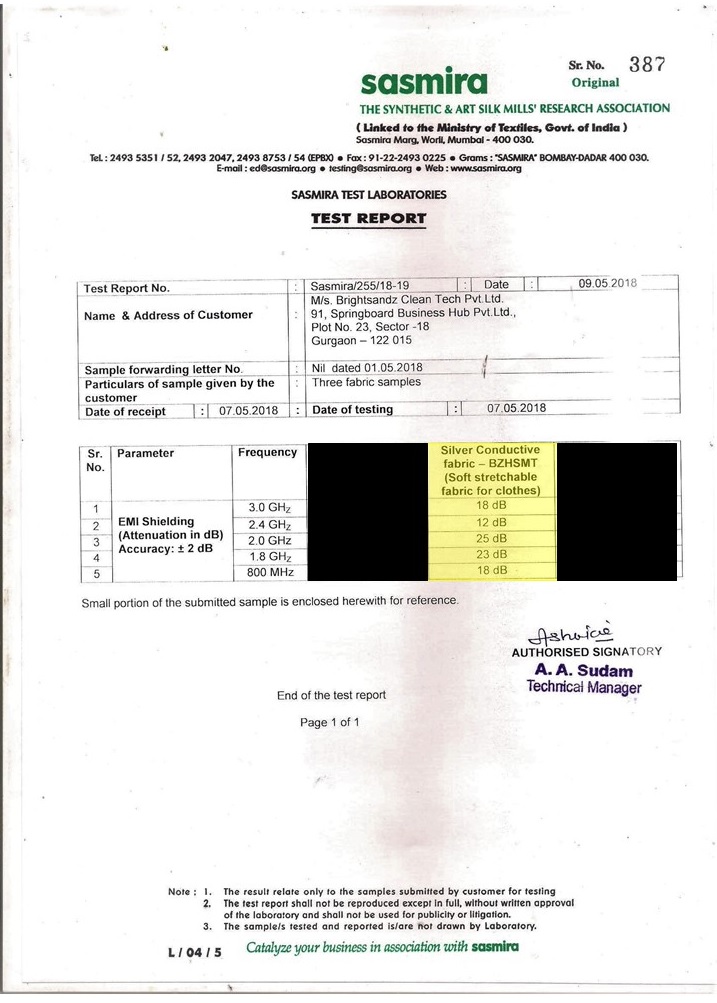 Svanah is soft on the skin, hypoallergenic, sweat wicking and fits the stomach snugly. Therefore, it is also used in providing gentle compression to the stomach and support to the figure.
| | |
| --- | --- |
| Weight | .124 kg |
| Color | Fandango, Forest Charms, Teal, Tropics, Black |
| Size | 2X- Large, X-Large, Medium, Large |
Outer Layer: 90% Polyester, 10% Spandex
Radiation shielded core: 96% Silver, 4% Nylon
REDUCES RADIATION EXPOSURE OF THE BABY in THE WOMB BY 99.95% from RF / WiFi radiation from cell phones, laptops and other devices
REDUCES RADIATION EXPOSURE OF THE BABY in THE WOMB BY 99.95% from RF / WiFi radiation from cell phones, laptops and other devices
Hypoallegenic - can be worn directly over skin
Light, Comfortable, Sweat Wicking - CAN BE WORN ALL DAY LONG
Provides gentle compression and support to the body
Certified by Govt of India laboratory NABL laboratory