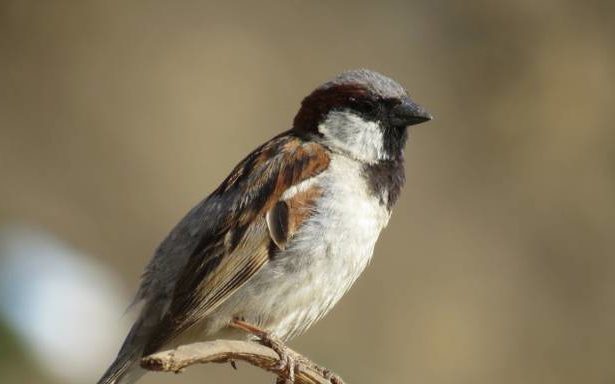 January 18, 2019

brightsandz
Cell phone tower radiation and birds is a much debated topic over the last decade. There are many versions and perspectives and hear-says. Here is our version of the truth and the scare. 
Introduction – cell phone tower radiation and birds
The Rajnikanth- Akshay Kumar starrer 2.0 released in December 2018. 2.0 has put the spotlight back on a long debate on cell phone tower radiation and birds. The movie is consistent with the general observation that bird population has reduced substantially – in the last 2 decades. Therefore, we have been asked questions. This is our response to these queries.
Are the mobile towers really harmful to birds as it is told in the movie 2.0.?
What is your reaction on Rajnikanth's 2.0?
Is there hard evidence to prove that birds are dying due to mobile tower radiation?
Can we scientifically correlate the electromagnetic wave radiation with the sparrow population?
Is it true that radiation due to cellphones has reduced the number of sparrows?
Do cellphone towers operating frequency affect birds?
Is radiation from cellphones indeed killing the birds and bees and impacting our health as shown in Rajnikanth and Akshay starrer 2.0?
Is there any unbiased scientific study to prove that mobile tower radiation is affecting birds like sparrows? Are we making mobile phone towers as scapegoats for reducing bird population?
Why are birds affected by electromagnetic radiation?
Cell phone tower radiation and birds – the facts
The issue of cell phone tower radiation and birds, has been exaggerated by 2.0. However it has its contextual premise right. There are multiple studies that link falling avian population with increasing levels of microwave pollution around us.
In 2011, Ministry of Environments and Forests (MoEF, GoI) sanctioned an 11 member fact finding committee. The committee provided its report on possible impacts of communication towers on Wildlife (including birds and bees). This included members from Wildlife Institute of India, Deptt of Telecommunications, WWF India, Indian Institute of Science (Bangalore), IIT New Delhi, Secretary (MoEF). This report can be accessed on the MoEF website. This report indicated towards some adverse effects of microwave / cell phone tower radiation on birds, sparrows, bats, bees, white storks etc. While this report mentions the need of more scientific research, it also advocates mitigation measures and regulation as key action areas.
Literature review of studies about effects of RF radiation on wildlife, birds and plants provides the following results.

Majority of studies on plants, bees and animals indicate high exposures to RF radiation has an impact on them
Cell phone tower radiation and birds – here's the science!
Unlike the urban legends, birds just do not fall down dead from the sky because of nearby cell towers. No matter what some one told you about 297 birds dropping down from the sky for some 5G testing. That is sensationalizing the issue without basic content, context and intelligence.
There is a science behind the fall of avian population in cities with high number of cell tower structures and high RF exposures. We have made this graphic to elaborate the key elements on the issue of cell phone tower radiation and birds.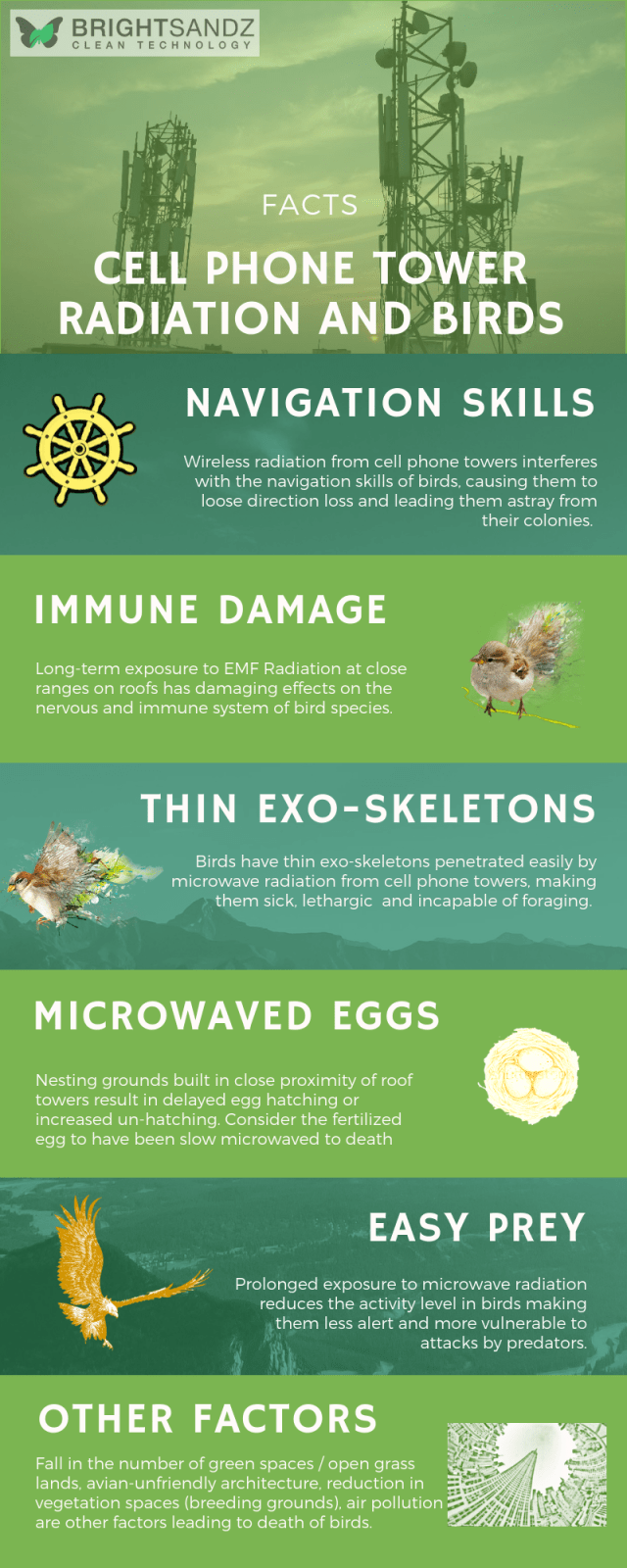 While this post addresses disappearance of birds – it equally applies to other delicate life forms – notably butterflies and bees. (We will run a secondary post addressing this a little later)
Conclusion
EMF/ RF radiation / Cell tower radiation is a sensitive topic – and one must separate the grain from the chaff. On the balance, cell tower radiation has a direct impact in decreasing number of birds around us. However, we are prone to over-exaggerating the subject. There is no denying and lack of concern. But then, we cannot wish away the telecom infrastructure. That is not possible. Awareness is the first step – and we hope to have been able to give a neutral unbiased view devoid of all sensationalism.